History of Conditorei Sluka Rathausplatz
Conditorei Sluka on the Rathausplatz has been a meeting place for Vienna's elite right from its earliest days of history. The Conditorei was particularly popular with artists, politicians and scholars.
The founding of the Conditorei Sluka on the Rathausplatz
In 1891, Wilhelm Josef Sluka and his wife Josefine opened a "Conditorei" (café and patisserie) in the building formerly numbered Reichratsstrasse 13, which is now known as Rathausplatz 8, between the City Hall (Rathaus) and the Parliament building. The founder was honoured by the imperial family for his outstanding craftsmanship after just a few years in business. So it was that, in the 19th century, the Conditorei came to be designated "Purveyor to the Imperial & Royal Court", and thus became Vienna's imperial coffee house.  
History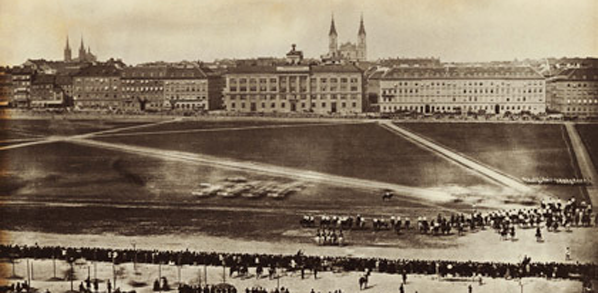 The plot of land on which Conditorei Sluka Rathausplatz is located had formerly been used as a parade ground. Then, between 1877 and 1878, the two architects who designed the City Hall, Friedrich von Schmidt and Franz von Neumann, constructed a building which was one of the first arcade houses in Old German style in the City Hall district.
Alexander Jeszenits, the successor to Wilhelm Josef Sluka, and his wife Anna Jeszenits were responsible for Conditorei Sluka Rathausplatz becoming famous far beyond Vienna's city borders. From 1960, the Beranek family took over the main building and thus continued the success story of history. Since 2014, the List Hospitality Group has carried on the traditions of the founders of Conditorei Sluka.