History of Sluka Kärntner Straße 
Since 2014, the traditional Conditorei Sluka, Purveyor to the Imperial and Royal Court, has been part of the Austrian List Group. This partnership gave our long-established business the opportunity in 2017 to open a second coffee house at a new location at Kärntner Straße 13-15 in which to serve our delicious confectionery products, in the form of cakes, slices, strudels and sweets.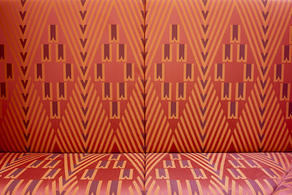 Special attention was also paid to the new fittings for the Conditorei: with the building's history in mind, the fabric for the new seats was based on a draft design by the original architect Friedrich Ohmann. The traditional soft furnishings company Backhausen copied the woven pattern for the Conditorei Sluka.
The outside seating area was also redesigned with new and attractive tables and chairs. Even a few palm trees adorn this traditional setting on the Kärntner Straße in the heart of Vienna.
The history of the building complex
The building at the corner of Kärntner Straße 11-15 and Weihburggasse 2-4 dates back to the Middle Ages. It was only in 1672 that the plot of land on Kärntner Straße was divided into two parts, no. 11 and no. 13-15. In 1884, the building at no. 13-15 was rebuilt for Dominik von Mainoni and Anna von Mayerhofer (herself born into the von Mainoni nobility) by the architect Josef K. Strauss.
The plans for a redesign of the archway in 1911 show the "Atelier Ohmann". Nine years later, the architect Friedrich Ohmann was also responsible for creating a passageway between the Palais Pereira at Weihburggasse 4 and Kärntner Strasse 13. This connection was reinstated in 2017 during the extension and restoration work.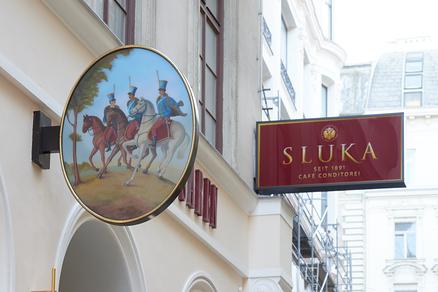 It had been closed in 1933 when the Colonel of Hussars Count Pál Pálffy, Peter Pálffy and Baron Sonjok opened a bar called "The Three Hussars" at Weihburggasse 4.
Until about 1970, the building at Kärntner Strasse 13-15 was owned by the Wiener Zentralsparkasse bank, but today it is privately owned and as a result lovers of the Viennese coffee-house culture are now able to immerse themselves in a unique historic atmosphere.